The Olive Oil Of Crete.
Olive oil is the single most important element of the world-famous for its values Cretan Cuisine. Abundant in monounsaturated fats, vitamins, antioxidants and nutrients, this is an all-natural vegetable fat of exceptionally high nutritional value. Its beneficial attributes were widely and well-known since ancient times and are confirmed at a later time after meticulous contemporary scientific research: Cretan olive oil is associated with longevity and overall health as it is a verified safeguard against cardiovascular disease, moderator of cholesterol, prevents thrombosis and is believed to guard against some forms of cancer.
This is after all an absolutely natural food –no chemicals, preservatives, additives here!- produced with the simplest of procedures: the olives are crushed to a pulp, pressed with only the help of cold water –hence the term "cold extraction"- that does not in the least destroy its goodness, to produce the precious juice! The olive variety preferred in mainland Greece and Crete is Koroneiki, ideal for the climatic patterns of Crete: sunlight all-year-round, mild winters and cool, breezy summers.
What really makes this precious food indispensable and unique, though, is its unbeatable taste: in its extra virgin type, its acidity is hardly traceable, making it mild and tasty, ideal for consuming raw, uncooked as a dressing for salads and more.
Crete and Olive Oil: A Matter of Culture

According to research the cultivation of the olive tree in Crete dates back to the Prehistoric times, most commonly known as the "Minoan Era", the first great civilization in Europe, some 35 centuries ago.
Since then, it is no exaggeration to say that the cultivation, production and use of olive, virtually unaltered has never stopped, a part of the local culture, companion and priceless commodity for the Cretan family.
Olive oil is not just another ingredient of the diet of the people of Crete. It is an integral part of the Cretan Culture: the Cretans have linked their lives with the olive tree cycle. They consume olive oil in any way you possible you can imagine, they pour it on toasted bread for a quick snack, fry with it, cook, roast, dress their salads, at breakfast, lunch and dinner. They use for medicinal and cosmetic purposes, to soothe or moisturize.
One might say that this is our common culture, a sort of collective memory for Greeks, a web of traditions with a common element, the olive oil, a legacy conveyed from our ancestors to us.
How to use it
Cretan olive oil can be used in various many ways, successfully replacing other vegetable or animal fats. Your dishes will become wholesome, more intense, healthier for you even if you fry them.
On toasted bread, with a pinch of salt and oregano or add it to grated tomato and feta cheese over "Paksimadi", the double-baked bread, the delicious "Dakos" dish.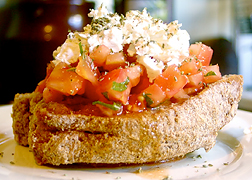 In your salads as a dressing since olive oil is mild and subtle in flavor, in its raw state.The culture of Olive Oil Of Crete.